JOMBLANG CAVE AND TIMANG BEACH TOUR
The Jomblang Cave and Timang Beach tour in Yogyakarta offers travelers a unique combination of adventure and relaxation in two of the region's most beautiful natural attractions.
Highlights:
Explore the natural wonder of the underground Jomblang Cave by rappeling
Experience a thrilling ride on a gondola to reach Timang Beach
Admire the stunning view of the beach and surrounding area
Enjoy a local seafood lunch at a nearby restaurant
Itinerary:
06:30 AM – 08:30 AM: Hotel pick-up (Yogyakarta area) then Drive to Jomblang Cave
09:15 AM – 12:00 PM: Jomblang Cave exploration by doing rappelling
12:00 PM – 01:00 PM: Lunch break
01:00 PM – 02:00 PM: Drive to Timang Beach
02:00 PM – 04:00 PM:Timang Beach visit by 4×4 Jeep and gondola ride to Timang Island
04:00 PM – 05:30 PM: Return transfer to hotel. End of services!
The Trip Cost Includes:
Private A/C Transportation
Pick up and drop off at your accommodation
English Speaking Driver
Lunch Box
Jomblang Cave Entrance Ticket (Foreigner)
Jomblang Cave Rappeling Equipment

1 Jeep in Timang Beach up to 4 person, 2 jeep for 5 or more

Timang Beach Gondola Ride
Guide in Jomblang Cave
All parking fees
Mineral water
Add-on ( Optional ) :
 

Lobster Meal Package : USD 50 per 4 people
The Trip Cost Excludes:
Additional Note:
Please bring socks, towels, sandals, spare clothes, waterproof small bags, and a camera for the Jomblang Cave tour.
All tours are based on private tours. Departure and return at Yogyakarta (transfer/drop to other cities is optional).
Money Issues: You will be required to change the Indonesian Currency (IDR) for your holiday in Indonesia. Please ensure that you have good denominations of all Rupiah notes. In Indonesia, credit cards are accepted for expenses incurred at hotels and restaurants. However, small shops and small-town eateries in the countryside can only accept cash.
Overall, this tour package offers travelers an exciting and unique experience to explore the natural wonders of Jomblang Cave and Timang Beach in Yogyakarta. The trip includes all necessary equipment, transportation, and lunch, making it a convenient and stress-free way to explore these two beautiful locations.
Terms and conditions :
We are so flexible with the payment. We receive cash (USD, IDR, EUR), bank transfer or paypal.
For payment via Paypal we require additional 3% due to low convertion rate.
If you book more than one month prior to date, we need at least 20% Down Payment from total amount as confirmation or as per agreement from both parties.
Hotel pick up and drop off are available within Yogyakarta City ( hotels or train station )
Hotel pick up and drop off from outside Yogyakara City are considered as additional service.
Airport Pick Up or drop off ( Yogyakarta International Airport ) is considered as an additional service.
Our drivers are able to speak english well, they are capable to explain about the the culture and tradition of Java Island or Indonesia in general during the tour, they are also capable to provide some advices about local things. However, our drivers are not allowed to go inside the temples. if you would like to know more about the history of the temples in details, you may hire a local guide that available in each temple, or you may book the local guide via add-on when you book our tours.
Some of our tours are already included with the local guide as well, so kindly please to make a double check of the inclusion / exclusion.
You may stop for meals, our driver normally will suggest you a local food that you might try. The meals expenses are not included on the tour.
---
About Jomblang Cave
Discovering the Mysteries of Jomblang Cave: A Vertical Adventure in Yogyakarta
Deep within the heart of Yogyakarta's Gunung Kidul Regency, a remarkable natural wonder awaits the intrepid traveler. Jomblang Cave, nestled in the serene Pacarejo Village, Semanu District, is a testament to the awe-inspiring forces of nature. It stands out from other caves in the region, offering a unique and exhilarating adventure for those who dare to explore its depths.
The Vertical Challenge
Jomblang Cave is not your typical horizontal cave; it's a vertical cave formed by geological processes involving the collapse of soil and vegetation. This dramatic process gave rise to a sinkhole with a mouth that plunges approximately 50 meters into the earth, forming the entrance to this subterranean wonder. Within the cave, ancient plant life is preserved, providing a glimpse into the Earth's rich history.
The vertical nature of Jomblang Cave makes it a thrilling attraction for adventure seekers. To explore its depths, you'll need special equipment and skills. There are four different paths to choose from, each varying in depth and difficulty. Novices can opt for the 15-meter path, while more experienced adventurers can brave the 40, 60, or even 80-meter high routes. The 15-meter path is manageable on foot, although it does entail steep terrain.
Upon reaching the cave's base, visitors are treated to a breathtaking sight. The area around the cave's mouth teems with lush, ancient plant life, creating a unique ecosystem that thrives in the cave's shadow. Stalagmites and stalactites decorate the cave's passageways, and a fast-flowing river adds to the cave's mystique.
The "Light of Heaven"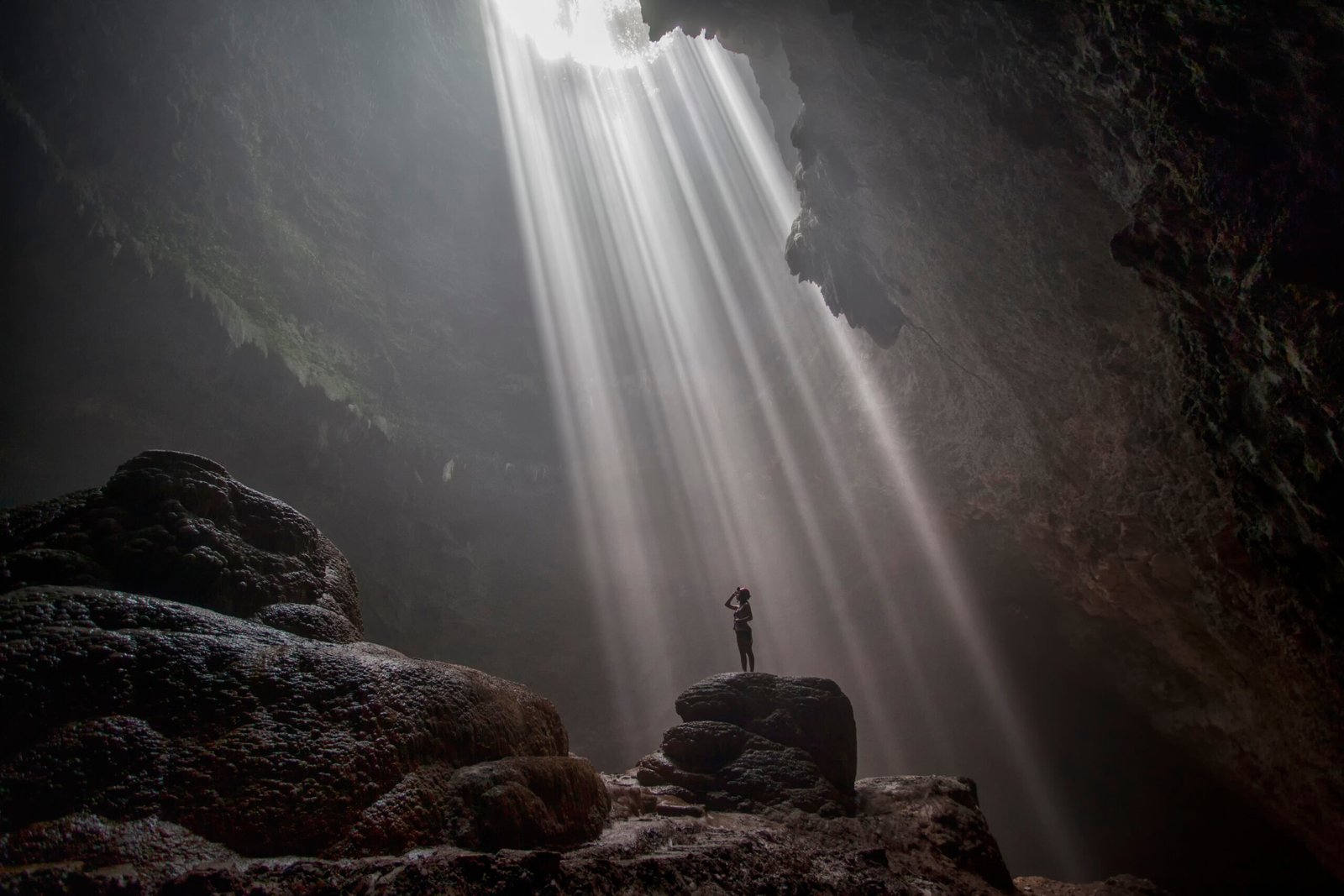 As you continue your journey deeper into the cave, you'll come across a place of true wonder: Luweng Grubug. It's here that you'll find what is often referred to as the "light of heaven." This phenomenon occurs when sunlight filters into the cave and illuminates the flowstone, creating a dazzling spectacle. The contrast between the radiant sunlight and the inky blackness of the cave's depths is a sight that leaves visitors breathless. It's this breathtaking display that has given rise to the term "light of heaven."
To witness this phenomenon in all its glory, plan your visit between 10:00 AM and 12:00 PM local time when the sun is positioned just right to cast its brilliance into the cave's mouth. Keep in mind that this spectacle is weather-dependent; on cloudy days, the sunlight may not penetrate the cave as effectively.
Safety and Equipment
If you're concerned about safety, rest assured that the management of Jomblang Cave has taken every precaution. They provide essential equipment for vertical caving, including Single Rope Technique (SRT) gear and safety equipment. Knowledgeable guides are also on hand to ensure visitors' safety throughout their descent and exploration of the cave.
Exploring Jomblang Cave
One of the best aspects of Jomblang Cave is that there is no entrance fee. If you have your caving equipment, simply seek permission from the manager or hamlet head. For those without their gear, equipment rental is available from the management, typically ranging from IDR 450,000 to IDR 1,000,000 per person. This fee includes a complete vertical caving package, complete with a guide, necessary equipment, and lunch.
Additionally, if you arrive by vehicle, you'll be charged a modest parking fee of IDR 3,000 for motorbikes and IDR 5,000 for cars. Facilities such as a prayer room, restrooms, and a storage area for belongings are available for visitors' convenience at the Head of the Hamlet's residence.
Getting to Jomblang Cave
Jomblang Cave is approximately 50 kilometers from Yogyakarta City, with a travel time of around 1 hour and 15 minutes. The journey typically involves taking the Yogyakarta – Wonosari road, then continuing through Jalan Kalisuci and Jalan Jomblang until you reach your destination.
In conclusion, Jomblang Cave is a remarkable destination for adventure enthusiasts and nature lovers alike. Its unique vertical nature, the "light of heaven," and the rich history preserved within its depths make it a must-visit attraction in Yogyakarta. So, if you're seeking an unforgettable adventure and a chance to witness one of nature's most captivating phenomena, make your way to Jomblang Cave and embark on a journey into the heart of the Earth