Explore the Hidden Beauty of Jomblang Cave
Jomblang Cave is a unique and stunning destination that offers travelers the chance to explore the magnificent beauty of nature. This breathtaking cave system is a must-visit for anyone seeking adventure and a chance to marvel at the wonders of the earth. Whether you're a seasoned traveler or a nature lover, you're sure to be inspired and awed by the incredible views and unforgettable experiences that await you at Jomblang cave.
Welcome to Goajomblang.com
Your Gateway to Adventure!
Embark on an unforgettable adventure as you explore the hidden wonders of Jomblang Cave. Known for its towering vertical shaft and stunning light beams, Jomblang Cave is one of the most breathtaking natural attractions in Yogyakarta, Indonesia. With our expert guides, you'll journey deep into the heart of this magnificent cave, discovering its awe-inspiring beauty and rich history.
On this tour, you'll experience the thrill of rappelling down into the cave, a truly unique and exhilarating experience. As you make your way through the caverns, you'll be surrounded by towering stalactites, stalagmites and other fascinating rock formations. You'll also have the opportunity to witness the famous light beams, which beam down into the cave from above, creating an otherworldly atmosphere.
Our knowledgeable guides will provide you with fascinating insights into the history and geology of the cave, making this a truly educational experience. And, your safety is always a top priority, so you can relax and enjoy the journey without worry. 
Jomblang Cave is a natural wonder that should not be missed. With its stunning beauty, rich history, and unique geology, it is a truly awe-inspiring experience. Whether you are a seasoned caver or simply looking for an adventure, Jomblang Cave is the perfect destination for a journey into the heart of nature. 
Jomblang Cave is a must-visit destination for anyone looking to experience the heart of nature. Ready to start your adventure? Contact us today to book your next tour!
Featured Trip - Jomblang Cave Tours
Experience the magic of Jomblang Cave tours with our range of tour packages, designed to cater to the needs of all types of travelers. Our packages provide a convenient, safe, and affordable way to explore this breathtaking natural wonder.
Additional Trip - Enjoy Yogyakarta Tours
Jomblang Cave Tours is just the beginning of your adventure in Yogyakarta, Indonesia. To make the most of your visit, we offer a range of additional trip packages to some of the region's most popular destinations. These packages are the perfect way to extend your trip and explore more of what the region has to offer.
Jomblang Cave: A Hidden Gem of Natural Beauty
Jomblang Cave is a stunning natural cave system located in the heart of Gunung Kidul, Yogyakarta Indonesia. This hidden gem offers travelers the chance to explore one of the world's most unique and beautiful geological formations and experience the power of nature up close and personal. With its stunning landscapes, breathtaking views, and endless opportunities for adventure, Goa Jomblang is a destination that is sure to leave a lasting impression on everyone who visits.
The Natural Wonder of Jomblang Cave
Jomblang Cave is a series of interconnected caves that were created by a massive collapse in the earth's surface, resulting in a breathtaking sinkhole that is now filled with lush green vegetation. The caves themselves are an incredible feat of geology, and visitors will marvel at the towering stalagmites and stalactites that adorn the walls and ceilings.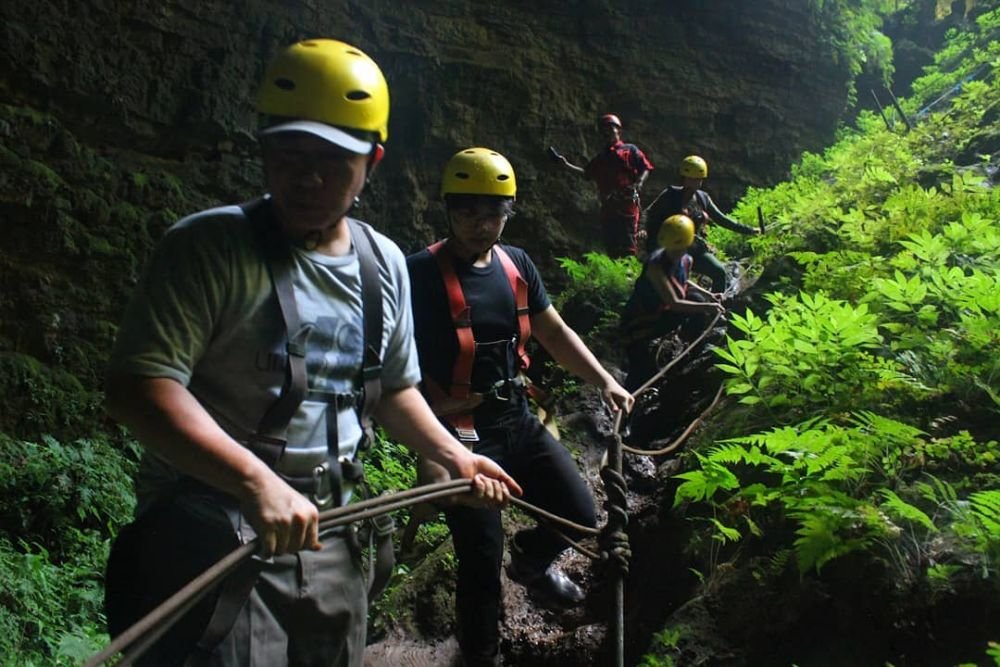 The unique landscape of Goa Jomblang is not only beautiful but also offers visitors endless opportunities for adventure and exploration. Whether you're an experienced caver or just looking for a fun and unique experience, you're sure to find something to love about this natural wonder. Visitors can hike through the jungle, rappel down into the sinkhole, or explore the caves on guided tours, all while enjoying the breathtaking views and the sounds of the surrounding forest.
A Journey Through the Heart of Nature
Visiting Goa Jomblang is not just a journey through the caves themselves, but a journey through the heart of the Indonesian jungle. The lush green forests surrounding the sinkhole are home to an incredible array of flora and fauna, including exotic birds, monkeys, and other wildlife. Visitors will enjoy a sense of true wilderness as they make their way through the jungle and down into the sinkhole, surrounded by the sounds of nature and the beauty of the surrounding landscape.
Jomblang Cave is formed from a combination of karst and sandstone, and its towering vertical shaft is a result of water erosion over thousands of years. The cave is approximately 60 meters deep, and it is home to an array of fascinating rock formations, including stalactites, stalagmites, and other unique structures. The famous light beams that shine into the cave are created when sunlight penetrates the surface and illuminates the interior.
The Ultimate Adventure Destination - Jomblang Cave Tours
For adventure-seekers and nature lovers alike, Goa Jomblang Cave is the ultimate destination. The combination of breathtaking natural beauty, thrilling activities, and the chance to explore one of the world's most unique geological formations make it an experience that is truly unforgettable. So whether you're seeking an escape from the hustle and bustle of city life or simply looking for a new and exciting adventure, Goa Jomblang is the perfect destination for you.
In conclusion, Goa Jomblang Cave is a hidden gem that offers travelers the chance to experience the raw power and beauty of nature like never before. With its stunning landscapes, endless opportunities for adventure, and breathtaking views, this unique destination is sure to leave a lasting impression on everyone who visits. So if you're looking for a truly unforgettable experience, make sure to add Goa Jomblang to your travel itinerary today!
Expert Yogyakarta Tour Planners: Day-Trips & Multi-Days! Jomblang Cave Tours is a 100% local agency to help plan Your vacation in all of Indonesia!
Tinton Arya was our guide and driver. He proudly shared information about Indonesian culture, history, religion etc. He is also an excellent driver which is important on Yogyakarta's… read more busy streets and highways. I highly recommend his services when visiting Yogyakarta. Borobudur and Prambanan should not be missed!
Gail S


March 20, 2023
One of the best driver we ever had! – Tinton was an amazing driver and also a really nice person. He took us to the best places providing useful insider advice and took charge of everything so we just… read more needed to enjoy the trip. 100% would recommend
X7514RZalberto


April 2, 2023
Tinton: A Passionate Guide who loves Indonesia, Travel, and Learning – I will preface this by saying that I usually do not write reviews. However, Tinton was such a great guide and a great person that I wanted to write… read more this about him.

Tinton is a storyteller. Not only is he knowledgeable about Yogyakarta and Indonesia as a whole, but he is passionate about history. We talked at length on my trip about the origin of coffee as well as the histories of some words and languages. We had good conversation through the day and he was exceptionally patient with me. Thanks to him I learned more about Indonesia as a whole from it's time as a Dutch colony to how it is now.

From the morning, he picked me up from the hostel I was staying in and immediately we began our travels to the tour sites. I also got to know him a bit more personally as I was the only one who booked for that particular tour day. Turns out, Tinton himself is a traveler and has seen chunks of the world on a budget. He is passionate about seeing the world and meeting people but also about Indonesian culture. If you want someone who really loves his culture – he's the guide for you.

He also went above and beyond for me by showing me things that I requested to see. Thanks to him I was able to try some great kopi luwak (luwak coffee) as well as meet a family of artists who did Indonesian batik for a living and had works of art in their own home that they produced.

Tinton is an honest, down to earth, good human being who just so happens to give the utmost professionalism when it comes to giving visitors to Yogyakarta a great learning experience.

At the end of the day, Tinton also went above and beyond for me and dropped me off at the airport. Not only had I met a great guide, but I had met a friend I could come visit when I come back to Indonesia.

Thanks to Tinton, I was able to see a side of Indonesia that I would not have otherwise seen. I can gladly say that I love Indonesia and was so fortunate to have met Tinton and the people I met through him. To me that is a one of a kind experience, and I'm glad I scrolled down a bit further from the first results for tours of this area and booked with him.

If you're a person who is seeking to learn more about Indonesian culture, its people, and its history, I say that Tinton is the proper guide for you.
JustinAGuy


February 16, 2023
Group Package Tour to Jomblang Cave
Get additional discount with your friend or family trip together at Jomblang Cave Tours. Save up to 20% with minimum 5 people package. 
Why Use a Local Yogyakarta Travel Agent?
Discover the unparalleled advantages of entrusting your Jogja tour package to the expertise of locals. Wondering why GoaJomblang.com/ is the ideal choice for your once-in-a-lifetime journey?
Efficient Time Management — Say goodbye to wasting precious hours trying to decipher the intricacies of Yogyakarta travel planning. The vast sea of information, often conflicting and outdated, can be overwhelming. Our team of local experts will attentively understand your requirements and tailor a perfect Jogja trip plan, covering everything from tours and transportation to lodging and excursions.
Peace of Mind Assurance — In today's world, ensuring safety is paramount. We not only prioritize your well-being but also ensure transparent pricing with no hidden costs. Trust us to guide you with intelligent decision-making, transforming the trip planning process into an enjoyable and stress-free experience rather than a bewildering headache.
Error-Free Journey — The devil is in the details, especially when it comes to travel logistics, accommodations, and transportation in Yogyakarta. Fear not! We're here to eliminate any potential hiccups, steering you clear of the common pitfalls that can mar an otherwise fantastic tour.
Optimized Enjoyment — We're committed to helping you make the most of every moment and dime during your Yogyakarta vacation. By assisting you in planning an efficient, relaxing, and worry-free trip, our objective is simple: to ensure that you have the most extraordinary travel experience of your life.
Embark on an Unforgettable Journey with GoaJomblang.com -Jomblang Cave Tours
At GoaJomblang.com – Jomblang Cave Tours, we are dedicated to crafting extraordinary experiences that exceed our guests' expectations. Our unwavering commitment to customer satisfaction is the cornerstone of our philosophy, and we are eager to prove it.
From the moment you set foot in Yogyakarta, our team will be there to ensure a seamless and stress-free travel experience. Our friendly and professional representatives will greet you at the airport, train station, or bus station, ready to whisk you away in our comfortable private transport. Throughout your stay, our dedicated customer service team will be available 24/7 to assist with any requests, from restaurant reservations to itinerary modifications.
Whether you're seeking a family adventure, a group getaway, a romantic retreat, or an adrenaline-pumping expedition, we will tailor a tour package that perfectly suits your desires. With over a decade of local expertise, we are your trusted guides to the wonders of Yogyakarta.
Why spend countless hours poring over itineraries and navigating overwhelming information when you can let our experts handle the arrangements? Our team of passionate local insiders, residing right here in Yogyakarta, possesses a wealth of travel knowledge accumulated over the years. We are eager to share our insider tips and ensure a smooth and enjoyable planning process.
Let us transform your trip into an unforgettable adventure, the one you truly deserve. Embark on a journey with GoaJomblang.com – Jomblang Cave Tours, and discover the magic of Yogyakarta.