Explore the Hidden Beauty of Goa Jomblang Cave
Goa Jomblang is a unique and stunning destination that offers travelers the chance to explore the magnificent beauty of nature. This breathtaking cave system is a must-visit for anyone seeking adventure and a chance to marvel at the wonders of the earth. Whether you're a seasoned traveler or a nature lover, you're sure to be inspired and awed by the incredible views and unforgettable experiences that await you at Goa Jomblang.
Welcome to Goajomblang.com
Your Gateway to Adventure!
Embark on an unforgettable adventure as you explore the hidden wonders of Jomblang Cave. Known for its towering vertical shaft and stunning light beams, Jomblang Cave is one of the most breathtaking natural attractions in Yogyakarta, Indonesia. With our expert guides, you'll journey deep into the heart of this magnificent cave, discovering its awe-inspiring beauty and rich history.
On this tour, you'll experience the thrill of rappelling down into the cave, a truly unique and exhilarating experience. As you make your way through the caverns, you'll be surrounded by towering stalactites, stalagmites and other fascinating rock formations. You'll also have the opportunity to witness the famous light beams, which beam down into the cave from above, creating an otherworldly atmosphere.
Our knowledgeable guides will provide you with fascinating insights into the history and geology of the cave, making this a truly educational experience. And, your safety is always a top priority, so you can relax and enjoy the journey without worry. 
Jomblang Cave is a natural wonder that should not be missed. With its stunning beauty, rich history, and unique geology, it is a truly awe-inspiring experience. Whether you are a seasoned caver or simply looking for an adventure, Jomblang Cave is the perfect destination for a journey into the heart of nature. 
Jomblang Cave is a must-visit destination for anyone looking to experience the heart of nature. Ready to start your adventure? Contact us today to book your next tour!
Experience the magic of Jomblang Cave with our range of tour packages, designed to cater to the needs of all types of travelers. Our packages provide a convenient, safe, and affordable way to explore this breathtaking natural wonder.
Jomblang Cave is just the beginning of your adventure in Yogyakarta, Indonesia. To make the most of your visit, we offer a range of additional trip packages to some of the region's most popular destinations. These packages are the perfect way to extend your trip and explore more of what the region has to offer.
Goa Jomblang: A Hidden Gem of Natural Beauty
Goa Jomblang is a stunning natural cave system located in the heart of Gunung Kidul, Yogyakarta Indonesia. This hidden gem offers travelers the chance to explore one of the world's most unique and beautiful geological formations and experience the power of nature up close and personal. With its stunning landscapes, breathtaking views, and endless opportunities for adventure, Goa Jomblang is a destination that is sure to leave a lasting impression on everyone who visits.
The Natural Wonder of Goa Jomblang Cave
Jomblang Cave is a series of interconnected caves that were created by a massive collapse in the earth's surface, resulting in a breathtaking sinkhole that is now filled with lush green vegetation. The caves themselves are an incredible feat of geology, and visitors will marvel at the towering stalagmites and stalactites that adorn the walls and ceilings.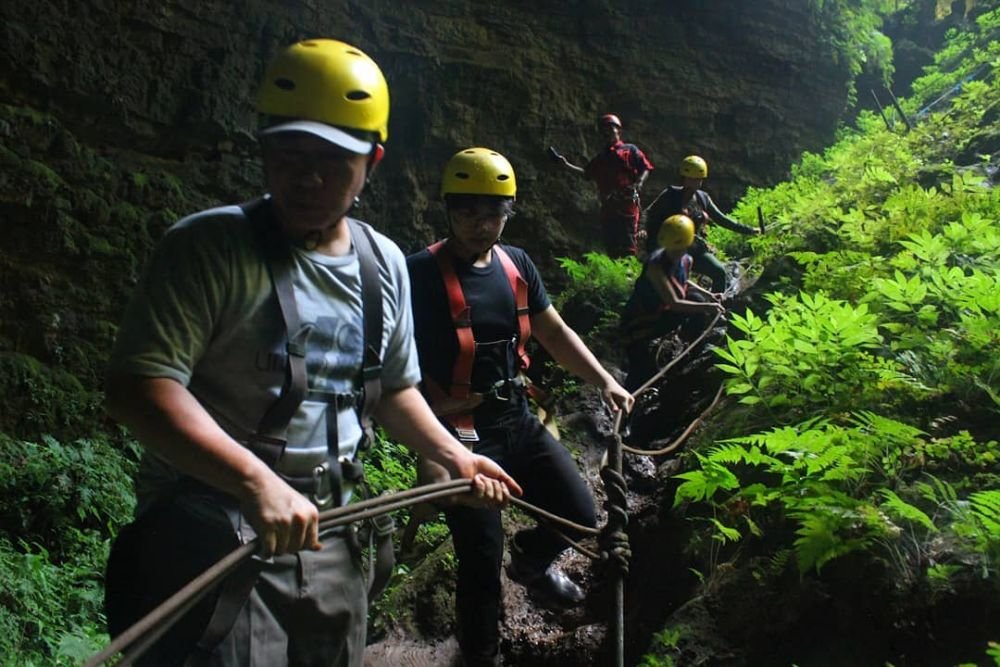 The unique landscape of Goa Jomblang is not only beautiful but also offers visitors endless opportunities for adventure and exploration. Whether you're an experienced caver or just looking for a fun and unique experience, you're sure to find something to love about this natural wonder. Visitors can hike through the jungle, rappel down into the sinkhole, or explore the caves on guided tours, all while enjoying the breathtaking views and the sounds of the surrounding forest.
A Journey Through the Heart of Nature
Visiting Goa Jomblang is not just a journey through the caves themselves, but a journey through the heart of the Indonesian jungle. The lush green forests surrounding the sinkhole are home to an incredible array of flora and fauna, including exotic birds, monkeys, and other wildlife. Visitors will enjoy a sense of true wilderness as they make their way through the jungle and down into the sinkhole, surrounded by the sounds of nature and the beauty of the surrounding landscape.
Jomblang Cave is formed from a combination of karst and sandstone, and its towering vertical shaft is a result of water erosion over thousands of years. The cave is approximately 60 meters deep, and it is home to an array of fascinating rock formations, including stalactites, stalagmites, and other unique structures. The famous light beams that shine into the cave are created when sunlight penetrates the surface and illuminates the interior.
The Ultimate Adventure Destination
For adventure-seekers and nature lovers alike, Goa Jomblang Cave is the ultimate destination. The combination of breathtaking natural beauty, thrilling activities, and the chance to explore one of the world's most unique geological formations make it an experience that is truly unforgettable. So whether you're seeking an escape from the hustle and bustle of city life or simply looking for a new and exciting adventure, Goa Jomblang is the perfect destination for you.
In conclusion, Goa Jomblang Cave is a hidden gem that offers travelers the chance to experience the raw power and beauty of nature like never before. With its stunning landscapes, endless opportunities for adventure, and breathtaking views, this unique destination is sure to leave a lasting impression on everyone who visits. So if you're looking for a truly unforgettable experience, make sure to add Goa Jomblang to your travel itinerary today!
Excellent temple and vulcano tour – The Borobudur – Prambanan tour with Tinton was absolutely amazing. The organization of the tour was perfect and the guide makes the tour as comfortable and individual as possible. During… read more the tour I was able to ask Tinton all my questions and he told me a lot of interesting things about Indonesia. He also gives great tips for other places worth seeing in Indonesia. I would highly recommend the tour with Tinton to anyone! It was a really great tour with an amazing guide!!
katharinag727


March 13, 2023
One of the best driver we ever had! – Tinton was an amazing driver and also a really nice person. He took us to the best places providing useful insider advice and took charge of everything so we just… read more needed to enjoy the trip. 100% would recommend
X7514RZalberto


April 2, 2023
Great value! – Great tour. Hanif was a very pleasant and helpful driver. Our tour included tickets for the jeep tour around Merapi, Borobudur, and Prambanan. The… read more trip coordinator was easy to communicate with through WhatsApp also when making arrangements. It does not include food, but that was not a problem at all. Hanif drove us where we wanted to eat near the temple for lunch. Overall it was a very value.
Reshma D


April 6, 2023
Group Package Tour to Jomblang Cave
Get additional discount with your friend or family trip together at Goa Jomblang. Save up to 20% with minimum 5 people package.