If you come to Yogyakarta and you feel like having a Kaliurang tourism, you can always head to the region and have fun. This kind of tourism means that you can visit a lot of places while in Kaliurang, enjoying the relaxed vibe while taking memorable pictures all the time. No need to worry that you will be bored. With so many different spots and options in Kaliurang, you will definitely have tons of fun.
What Is Kaliurang?
Kaliurang is an area close to Mount Merapi. To be exact, it's located on the slope of the mountain. You are probably familiar with the name because it's also a name of a street in Yogyakarta. The 'real' Kaliurang has this relaxing vibe, which is far from the hustle and bustle of a busy city.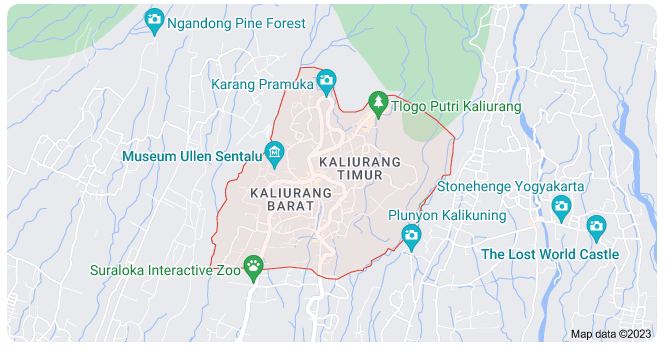 Think about staying a night in Kaliurang? There are tons of inns or villas there, so you won't run out of options. Don't forget to bring extra clothes, especially warm clothes too because it can be chilly there. If you know the interesting places to visit, you can start planning out your itinerary and start your trip!
Tlogo Muncar
One of the most popular Kaliurang tourism is this waterfall. Yes, it's a waterfall, located in Harjobinangun Village within Pakem sub-district. What can you do there? You can relax, swimming or playing in the water. You can also take pictures as the site provides magnificent view. It's a popular and likable spot for family recreation, where you can have a short exploration or trekking.
This waterfall isn't only known for its beautiful waterfall, but also for the relaxing atmosphere. The site is lush and somewhat refreshing, surrounded by big bushes and tall trees. It's easy to reach and the facilities are pretty complete, covering inns, toilets, food stands, and others. Yogyakarta can be hot and humid, and the chilly water can be soothing. Be careful and follow the directions if you want to have fun (and safe) time.
Lost World Castle
This is basically a very wide and vast theme park. What's so special about this spot is its various spots for selfies. It's included in one of the most popular spots for Kaliurang tourism because of its unique appeal, and also because of its location, which is in Sleman.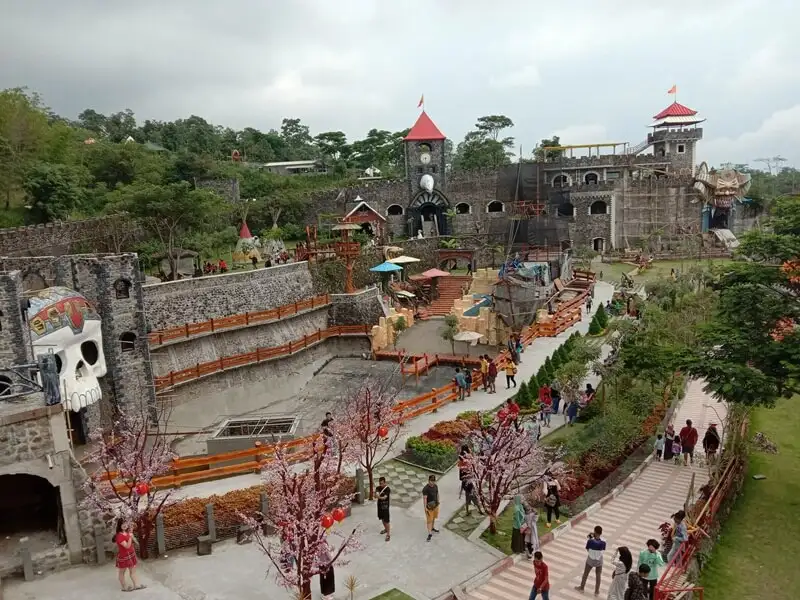 Are you familiar with Takeshi Castle, the TV show? Or the Great Wall of China? Well, the Lost World Castle has almost the same concept. Basically, this is an 'entertainment' park that combines castle structure and layout (for those who are into castles so much) and different selfie spots. You can expect colorful and vibrant photo results after you visit this place. The entrance ticket is pretty affordable, but it doesn't include meal and parking.
Suraloka Zoo
It's a part of Kaliurang tourism because of its location. Yup, the zoo is still a part of Kaliurang, which means that you should have no problem visiting it as a part of your itinerary. The zoo is designed and created as an educational zoo, which means that everyone can get new info and knowledge about the animals and plants there.
The number of animals may not be as many as the one at Gembiraloka zoo, but it's still exciting, entertaining, and fun. Besides the animals, you can also enjoy various attractions, including recreational rides, like trains, flying fox, and mini zoo. It's a comfy and calm site, perfect for kids and families.
Bukit Klangon
Not many people know this hill because they are more familiar with its another name: Bukit Indah Glagaharjo. The reason is because the location is within Glagaharjo Village. When compared to Bukit Kaliurang (or Kaliurang Hill), Bukit Klangon is somewhat quieter and less known.
Are you into camping? Want to look at the majestic and natural view of Mount Merapi? This is the right place to do so. If you want to visit the spot as the non-camper, the price would be different from those campers. If you do want to spend the night camping there, you need to follow the rules and instructions. It can be dangerous at night because of the fog so roaming alone isn't allowed. Most campers want to enjoy the sunrise view of Merapi, so join the crowd if you want to do the same thing.
Tlogo Putri
Tlogo means lake, which means that you can enjoy water activities while coming to this spot. One of the reasons why it's included in Kaliurang tourism is because of its location, which is on the slop of Mount Merapi. One of its main appeals is the natural and gorgeous views of the mountain, topped off with the refreshing green atmosphere. With so many trees, the place provides a relaxed and laid-back spot to wind down.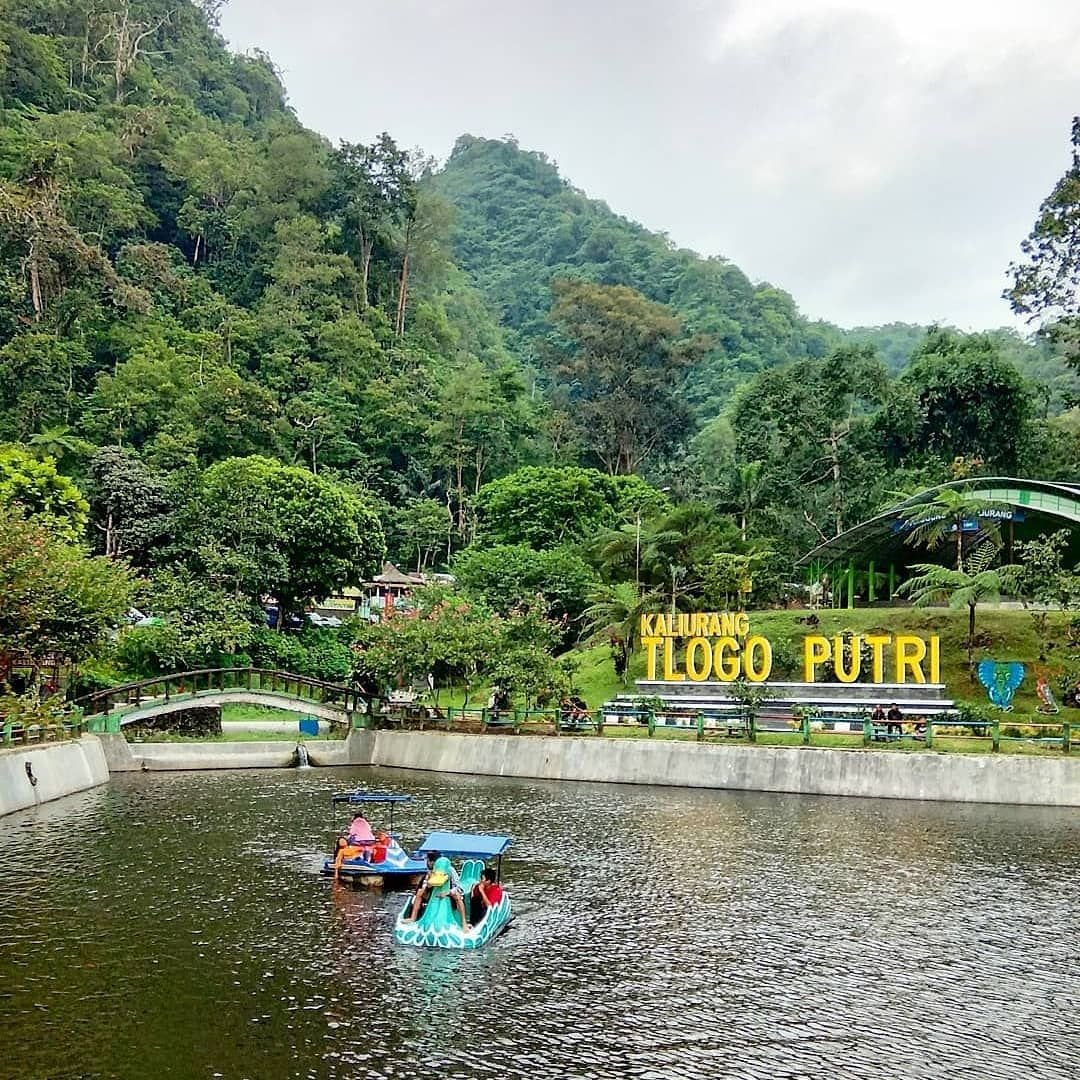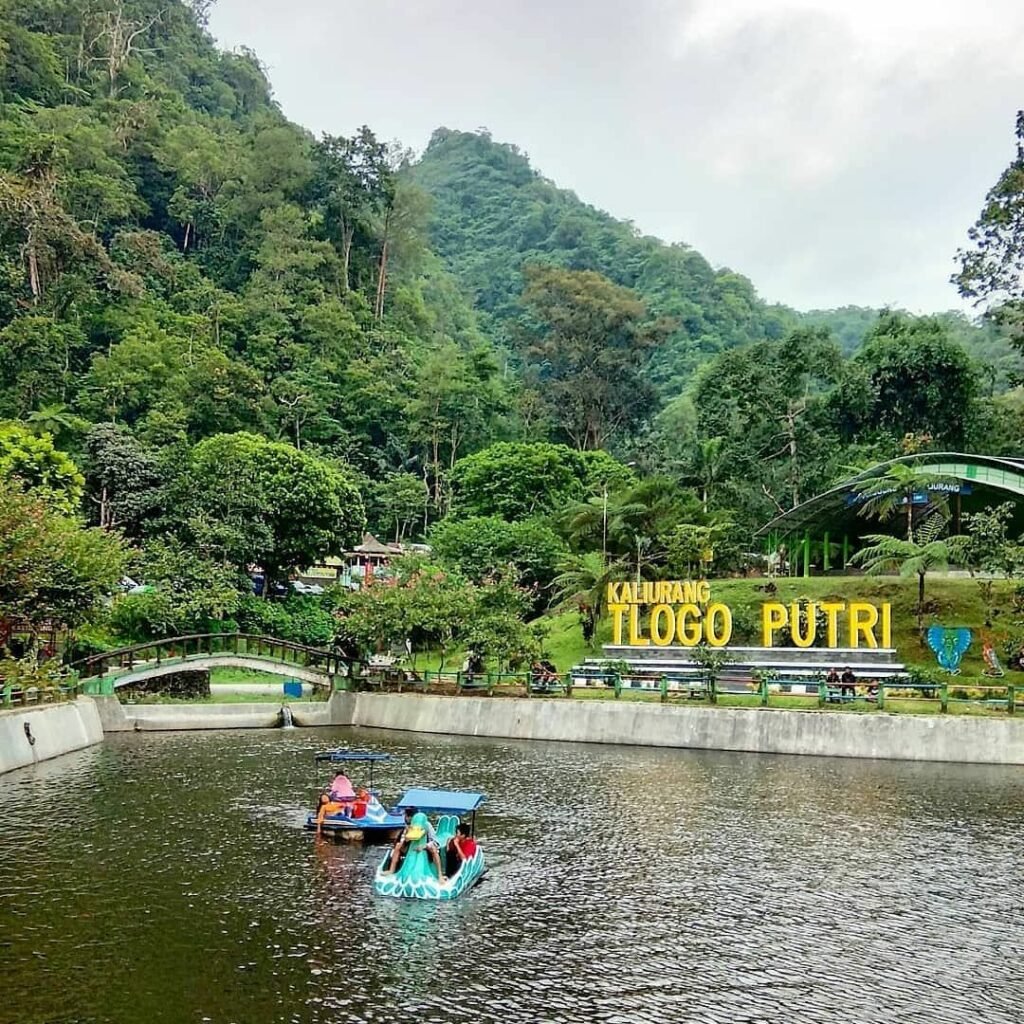 You can enjoy many water activities, such as pedalling the duck ride, go boating, canoeing, and so much more. There is also a place to play with the water for kids. If they don't really like playing with the water, they can play at the playground. You can also rent jeep or scooter, enjoy the art show, or take artistic photos.
Ledok Sambi
This has been a favorable spot for families, thanks to its beautiful spot in a valley, along with a river stretch. Located in Sleman within Kaliurang, this place is reachable from the center of Yogyakarta.
You only have to travel for 22 kilometers to reach it. You don't have to pay anything to enter the location, meaning that it's free. However, if you want to take on the rides, you will have to pay for each of them. Each ride has different rates. Plus, you aren't allowed to bring in food or drink. No need to worry, you can find a lot of different food, like fried noodles or rice, snacks, and even coffee.
Basically you can have a picnic there. You can also play in the river. Want to have a little bit of adrenaline rush with the flying fox? You can do it too. Or if you prefer the paint ball game, feel free to do it. You can even camp there. Whether you bring in your own gear or rent from them, you can have a great bonding moment with your family.
Final Words
Sounds like a wonderful journey, right? Kaliurang tourism is definitely offering one of a kind moments with your loved ones, so you shouldn't miss it out.