Jomblang Cave, or what can also be called a vertical cave, is located in Jetis Wetan, Pacarejo, Semanu, Gunungkidul Regency, Yogyakarta. It takes about 1.5 hours to drive from downtown Yogyakarta to come here.
This cave is famous for its uniqueness and beauty, which can make you chuckle in awe. So what are you waiting for? Let's look at these six interesting facts from Jomblang Cave.
1. The base of this cave is a place for ancient plant conservation 
I called it a vertical cave because this cave is steep, which occurs. After all, the ground surface collapses. The soil collapse did not destroy the growing plants, but those plants also fell and grew at the bottom to become a forest.
The forest is called the ancient forest. In addition, the soil collapse forms a sinkhole or well, known in Javanese as long. 
2. Has four paths that can be passed 
To go down this Jomblang cave, four paths can be used with different depths. There are 15m, 40m, 60m, and 80m. If you are a beginner, using the 15 m line is better. Although the road conditions are pretty steep, this path can be traversed on foot. Later, you will also be trained to go down the cave safely.
Then to pass deeper routes such as 40 m – 80 m, it is necessary to use SRT ( Single Rope Technique ) equipment. Of course, there are expert guides so you can get off safely.
3. Here, you can see the view of the 'heavenly light.' 
When you reach the bottom of the cave, by passing through a 300 m-long tunnel, you can find a scene called 'heavenly light.' Sunlight will enter the cave through the gaps and illuminate the flowstone.
The contrasting view of the sunlight that collides with the cave's darkness can make you chuckle in awe. To see this sight, you need the right time, which is around 10.00 to 12.00, and with a note that the weather is sunny.
4. The view at the bottom of the cave is amazing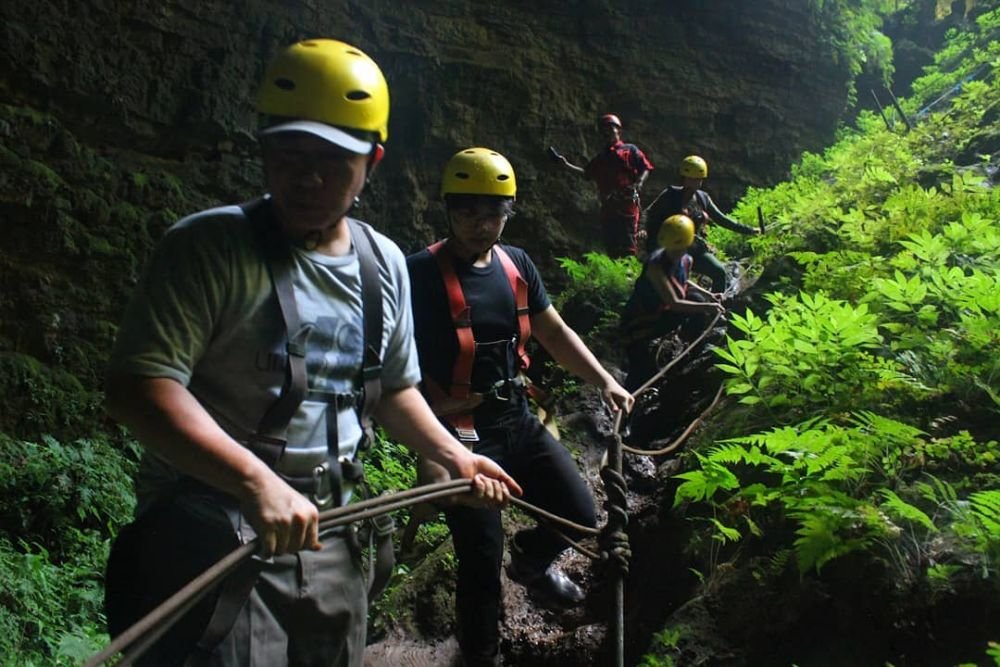 When you reach the bottom of the cave, you can see the lush green forest, various mosses, and ferns. You can also see rock crystals, stalactites, and stalagmites. There is also a fast-flowing river. It looks like stunning scenery, right?
5. There is a dark historical story behind this cave 
This cave was said to be used as a location for mass killings of PKI members. According to the report, they were lined up at the mouth of the cave with their hands tied to each other. Then when one is shot down into the cave, the others will fall too.
The story had made people afraid to visit. Moreover, there was a haunted story spreading in the cave. But in the 1990s, the local community held a joint prayer at that place. Since then, there have been no more scary stories, such as the incident of a lost cave explorer swallowed up by Jomblang Cave.
6. Once used as a filming location 
In 2011, Jomblang Cave was used for filming The Amazing Race,  an American game show. Then in June 2020, South Korean actor and singer Lee Seung Gi and Taiwanese actor Jasper Liu made this place one of the destinations in their newest variety show, Together.
7. Tips for those of you who are going to visit this cave
If you see this cave, remember to bring a change of clothes, including an extra pair of socks, because you will get dirty here. In addition, the number of visitors to Jomblang Cave is limited. So you'll have to make a reservation in advance.
If you want more information, you can look at the Jomblang Cave official website, goajomblang.com. What are you waiting for? Immediately add this tour to your bucket list.