If you want to enjoy educational trip about the environment, you can always visit Mangrove Forest in Kulon Progo. It's an area in Yogyakarta, which is pretty cool. It may not be overly crowded and excessively popular as other tourist destinations in Yogyakarta, but it doesn't mean that it's not good or functional. In fact, you can learn about the role of mangrove forest for the ecosystem (and the environment in general) when coming to this site.
About Yogyakarta's Mangrove Forest
As it was mentioned before, this Mangrove Forest in Kulon Progo provides an alternative and educational destinations for those who are interested in the environment topic. This forest is actually a part of mangrove conservation area, especially in Yogyakarta.
It's not far from Congot Beach, meaning that it's easily reached and accessed. It covers an area of more than 3 acres of land, so it's wide and vast. Visitors can enjoy the wide expansion of mangrove, right on the beach coast and Bogowonto river.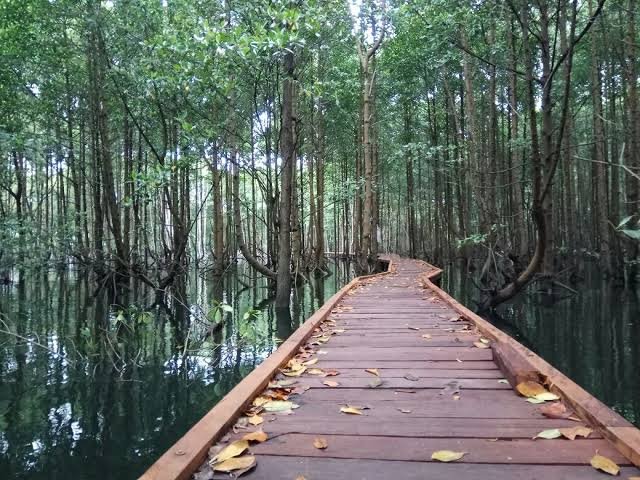 This Mangrove Forest is divided into 3 different destinations: Pasir Mendhit Mangrove (the western side), Api Api Bridge Mangrove (the middle area), and Kadilangu Beach Mangrove (the eastern part).
People tend to underestimate the place, thinking that mangrove forest would be lame and not attractive. In reality, the lush forest is an understatement.
When you combine the lush forest and the natural beauty of the coast, you'll understand why some people prefer spending their time in this spot. And just like other tourist destinations, you can find several interesting photo spots, with the mangrove forest and the beach as the background.
What to Do There?
So, what can you do at Mangrove Forest in Kulon Progo? As it was stated before, you can take pictures on different spots with the beach and the forest as your background. Some of these spots have gazebo, Fire Bridge (or known as Jembatan Api), swings, bamboo deck in between the mangrove trees, and others.
Mangrove Forest in Kulon Progo was first established as a conservation area to prevent abrasion. There had been planning to use this area as a conservation spot since 1989. This spot is still included within Glagah Beach area as well as T
.
One of the forest's appeal is Wana Tirta Bridge, where you can enjoy the cool and fresh air, thanks to the mangrove forest surrounding the area. It's really refreshing and relaxing. After all, being able to be present in such a lush and cool area, far away from the hustle and bustle of the crowded city, is definitely a treat.
Want to take a selfie? Feel free to do it at Siapi-api Bridge, which is built in between the lush greeneries of the trees. With such a combination of natural appeal and hand-made facilities, you'll find this forest surprisingly interesting and pretty exciting. For couples, they can make use of the interesting photo spots (along with the lover frame), just like you find during wedding parties.
Imitating the 'love lock' concept from South Korea, you can find the same interesting spot in this forest. If you happen to come to this spot with your spouse and loved ones, you can write love letter or love expression and then attach the lock there. It's no wonder when visitors also make use of this spot for their pre-wedding photo sessions.
Besides walking and exploring the area around, you can also take a boat trip. It's a pretty short trip, but at least you get to see the place around from a boat. With the local people as the operator, you can choose the boat from 2 main options. The first boat is bigger, able to accommodate 25 people at once. The second one is smaller, only able to accommodate 15 people at once.
As it was said before, the trip is pretty short. It takes 5 to 10 minutes. It costs only IDR 10,000 per person, so it's affordable – if not cheap. Travelers can make use of the boat trip to take pictures. If you are lucky, you can see the fish swimming around. Consider it as a bonus if it happens to you.
The Entrance Fee
The fee to this Mangrove Forest in Kulon Progo is pretty affordable, only IDR 5,000 per person. Unfortunately, the facilities aren't really complete or satisfying. You can find toilets and praying room. There are food stalls selling food in case you are hungry during your exploration. The foods and drinks there are quite affordable, but you shouldn't expect something fancy. It opens every day from 6 AM to 6 PM.
Finding the spot is quite easy. After all, it's not too far from Yogyakarta's center. You can use Google Map or simply ask around. You won't miss it.
Tips to Visit the Forest
Here are some handy tips that can make your exploration more enjoyable.
Don't forget to drink. Yogyakarta is pretty humid, so you don't want to suffer from dehydration. It's okay to bring your own drink, although you can always buy one from the food vendors within the area.
Wear something comfortable, breathable, and light. Avoid layered and thick clothes.
Don't forget to wear sunscreen. You should also bring mouse repellant considering that there would be a lot of plants and greeneries.
Follow the rules. Pay attention to the regulations. Be respectful.
Don't litter. Don't just throw away food wrapper or empty bottle just like that. You should be able to find garbage bins here and there. But even if you can't find one, at least keep those garbage in your bag and throw them away when you find a bin.
Keep your hands to yourself. Don't touch or damage the plants and trees. Don't steal them either. This place is meant to prevent further environmental damages. You don't want any of your action actually causes damages.
Final Words
In the end, this conservation area is another option for popular tourist destinations in Yogyakarta. If you happen to visit Yogyakarta, you should put it into your list, especially for educational purpose. It's a guarantee that visiting Mangrove Forest in Kulon Progo will be worth your time.